Expert Commercial Pressure Washing Professional Helping Elizabethtown Businesses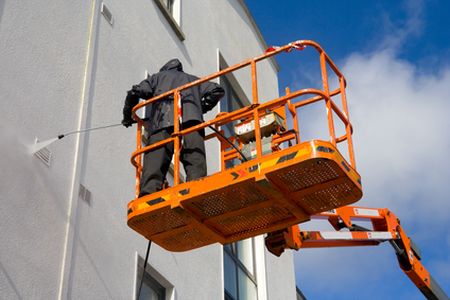 Call All Out Pressure Washing if your Elizabethtown business property needs high-quality commercial pressure washing services. Maintaining a clean and appealing commercial property will improve the quality of your clients' experience while also increasing the attractiveness of your company. As a result, keeping your facility clean is a win-win scenario for all parties involved. This is especially true if your company has an outside space that customers or workers utilize. It's critical that the building façade be kept clean and appealing at all times. Our highly trained experts have many years of commercial pressure washing expertise, so we're certain that you'll be satisfied with our work. We won't be happy until your establishment seems to be brand-spanking new! As a company owner, you can rely on us to perform even the most complex tasks with care and accuracy. When we clean your Elizabethtown property, we're doing more than simply providing commercial pressure washing services; we're also assisting in your company's growth. Regardless of the size or scope of the project, our experts are equipped to tackle it. Make an appointment with us today!
Exterior Surface Cleaning For Businesses
There are many benefits to choosing a company that specializes in exterior surface cleaning for businesses. On the exterior of a structure, mold and mildew are very prevalent. Our industrial pressure washing services will remove the yellowing, black stains, and dirt that give your building an untidy appearance. Our pressure washing methods enable us to clean the outside of your company while eliminating bothersome dirt and grime without inflicting any structural damage. Our technicians are fully equipped with all of the necessary tools needed for such a task, so you can rest assured that we'll get every speck of debris off your property. Please contact us if you need our Elizabethtown pressure washing services or other specialty cleanings such as roof washing. After having your business commercially pressure washed, you'll be surprised at how clean and fresh it can appear! We're ready to set up a free cleaning consultation with you, so reach out to one of our pressure washing pros.

Recent Articles
The Advantages of Commercial Pressure Washing

In business, maintaining a positive image is all that is required to keep things running smoothly. You must excel at grabbing your clients' attention and keeping them coming back time and time again. On the other side, many company owners are so focused on their projects, […]

Do-It-Yourself Pressure Washing: 5 Mistakes to Avoid

Pressure washing a structure, sidewalk, or driveway is the quickest way to improve a home's or business property's look. Regular hosing down will not remove dirt and grime, but pressure washing with the proper methods will. Is pressure washing, on the other hand, a weekend do-it-yourself […]
Contact All Out Pressure Washing
Call Your Elizabethtown Pressure Washing Professionals Today!