Outstanding Elizabethtown Pressure Washing Services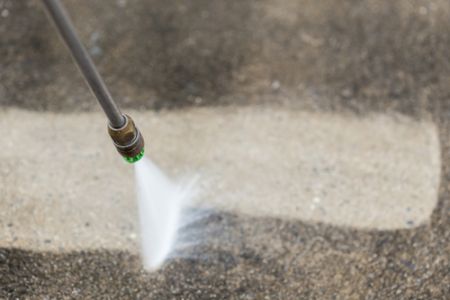 You may not realize it, but pressure washing is one of the most efficient ways to remove dirt and grime. That is why All Out Pressure Washing in Elizabethtown provides a broad variety of expert pressure washing services. We are aware that our professional pressure washing services may be beneficial to Elizabethtown residents. Whether you need your home or commercial property pressure washed, we can assist you. We clean various kinds of property, including decks, fences, and more, with complete respect and professionalism. We promise that your property will appear like new after we pressure wash it since we are dedicated to 100% customer satisfaction. In addition, our team of committed experts provides the industry's finest customer service. Call us now for a free estimate for pressure washing in Elizabethtown and the surrounding areas.
Boost The Curb Appeal Of Your Home In Elizabethtown With Driveway Washing
Many residents in Elizabethtown seek driveway washing services because they lack the time to do it themselves. If you have a hectic schedule and a dirty driveway, contact our pressure washing team. We understand that both business and life are demanding, which is why we work around your schedule. We'll help you with maintaining a safe and functional driveway so you can get on with your day. When we pressure wash your driveway using our environmentally friendly techniques, nothing but a natural clean slate is left behind. Also, in addition to ensuring that your driveway is cleaned correctly, our methods are ecologically safe and won't cause harm to the surrounding environment. Contact our team in Elizabethtown now to schedule a pressure washing service for your driveway.
Elizabethtown Roof Cleaning Specialists
Do you have a home in Elizabethtown that you are particularly proud of? If this is the case, you realize how tough it is to keep your roof as clean and well-maintained as the day it was constructed. Roof cleaning services are a simple way to keep your roof in good shape and your gutters from becoming clogged. You want your roof to be clean and your gutters to be clear so that water may flow freely. Cleaning your roof on a regular basis will keep dirt, grime, and other debris from collecting on it. If you ignore your roof for an extended period of time, it may be permanently ruined. If your roof hasn't been maintained in the past two years, give us a call. We'll thoroughly clean your roof so it appears better than it has in the past.
There are currently no reviews or testimonials; check back soon!

Recent Articles
The Advantages of Commercial Pressure Washing

In business, maintaining a positive image is all that is required to keep things running smoothly. You must excel at grabbing your clients' attention and keeping them coming back time and time again. On the other side, many company owners are so focused on their projects, […]

Do-It-Yourself Pressure Washing: 5 Mistakes to Avoid

Pressure washing a structure, sidewalk, or driveway is the quickest way to improve a home's or business property's look. Regular hosing down will not remove dirt and grime, but pressure washing with the proper methods will. Is pressure washing, on the other hand, a weekend do-it-yourself […]
Contact All Out Pressure Washing
Call Your Elizabethtown Pressure Washing Professionals Today!