Your Elizabethtown Fence Washing Pros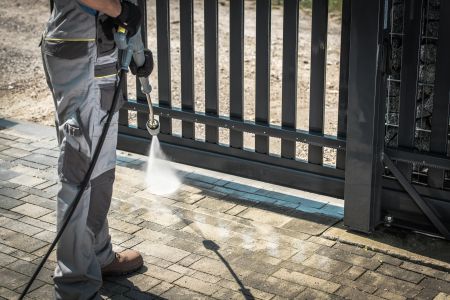 All Out Pressure Washing is an eco-friendly and certified company providing pressure washing for Elizabethtown residents. With our sustainable approach to cleaning, we provide quality fence washing at the most competitive prices in town. Our process is simple. We will come to your home, inspect the exterior of your fence for any damages, then use a gentle yet powerful spray to remove grime and dirt from your fence in order to keep your fence looking its best. While keeping your fence clean may seem like a waste of time or money, fence washing is necessary for maintaining a healthy home environment and curb appeal. A fence covered in mold can also cause contamination and could pollute your outside areas. If you would like to schedule a free estimate or consultation, please call our dedicated team for more information about our services. We also proudly offer the highest quality deck cleaning. So if you're deck is covered in dirt and due for maintenance, we can help! An experienced technician will be happy to answer any questions you may have about fence washing or deck cleaning in Elizabethtown, so reach out and schedule an appointment.
Fence Cleaning
When you engage our team for high-quality fence cleaning, you can be certain that the curb appeal of your property will increase. Numerous customers approach us after trying to clean their fence using over-the-counter products and discovering that it remained filthy. We help you get the most of your pressure washing investment. We always use the most effective techniques and solutions for pressure cleaning, and you can rely on us to get the job done correctly the first time. Our cleaning methods will remove mildew, grime, and other pollutants that are robbing your fence of its natural beauty.
After having your fence cleaned by our professional pressure washing technicians, you'll notice an immediate difference. Your fence will look great, and the whole appearance of your home will instantly improve.

Recent Articles
The Advantages of Commercial Pressure Washing

In business, maintaining a positive image is all that is required to keep things running smoothly. You must excel at grabbing your clients' attention and keeping them coming back time and time again. On the other side, many company owners are so focused on their projects, […]

Do-It-Yourself Pressure Washing: 5 Mistakes to Avoid

Pressure washing a structure, sidewalk, or driveway is the quickest way to improve a home's or business property's look. Regular hosing down will not remove dirt and grime, but pressure washing with the proper methods will. Is pressure washing, on the other hand, a weekend do-it-yourself […]
Contact All Out Pressure Washing
Call Your Elizabethtown Pressure Washing Professionals Today!