Hope Mills Pressure Washing Services You Can Depend On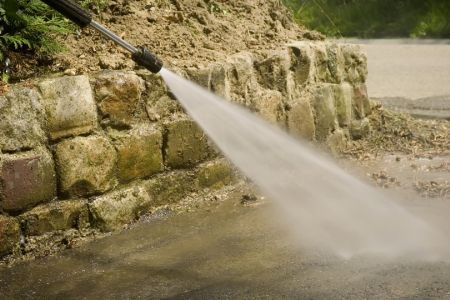 All Out Pressure Washing is a comprehensive pressure washing company that assists Hope Mills residents in maintaining a clean house or business. We are a well-established, reputable company that offers a wide variety of pressure washing services at affordable rates. Our pressure washing technicians have undergone extensive training in the equipment, techniques, and processes necessary to clean a variety of surfaces. Our company adheres to stringent safety standards at all times to ensure the health and safety of our customers and employees. Allow us to help you in making your home or business look great!
When You Hire the Experts At All Out Pressure Washing, Driveway washing Is A Breeze
Residents of Hope Mills may take advantage of a variety of innovative and exciting services provided by the friendly staff at All Out Pressure Washing. It doesn't matter if you need your driveway or house washed, our company will put your mind at ease. We guarantee your complete satisfaction with each and every service we offer! Our cleaning professionals approach the driveway washing business from two perspectives: delivering ecologically safe solutions for your family's requirements and providing unbeatable pricing. Regardless of where you reside in Hope Mills, All Out Pressure Washing can assist you in completing your cleaning session quickly and affordably with our driveway washing services. Our highly trained driveway cleaning specialists are experts at delivering safe and efficient solutions for any kind of outdoor surface. For us, no task is too large or small! Contact a member of our team now to schedule your free estimate.
With Our Roof Cleaning Services, You Can Avoid Roof Repairs
Contact us and let us remove those ugly stains from your roof! When it comes to keeping a beautiful house or business building, the last thing anybody wants on their property is stains or streaks. As a top residential and commercial roof cleaning company in Hope Mills, you can rely on us to thoroughly clean your roof. When we clean your roof, we scour every crevice, leaving no sign of filth behind. Our dedication to employing only the most qualified people enables us to offer a safe and productive experience. We take pleasure in our work and strive to restore each roof we work on to its original condition. Our team of seasoned cleaners will revitalize the appearance of your house or office while also enhancing the air quality. No matter what kind of roof you have, we provide a professional roof cleaning service that will restore the luster to your property. We can remove even the most stubborn stains and safeguard your home from mold and mildew development with our state-of-the-art technology. Contact us now for a free quote on roof cleaning and pressure washing in Hope Mills!
There are currently no reviews or testimonials; check back soon!

Recent Articles
The Advantages of Commercial Pressure Washing

In business, maintaining a positive image is all that is required to keep things running smoothly. You must excel at grabbing your clients' attention and keeping them coming back time and time again. On the other side, many company owners are so focused on their projects, […]

Do-It-Yourself Pressure Washing: 5 Mistakes to Avoid

Pressure washing a structure, sidewalk, or driveway is the quickest way to improve a home's or business property's look. Regular hosing down will not remove dirt and grime, but pressure washing with the proper methods will. Is pressure washing, on the other hand, a weekend do-it-yourself […]
Contact All Out Pressure Washing
Call Your Elizabethtown Pressure Washing Professionals Today!