Deck Cleaning Specialists Serving Elizabethtown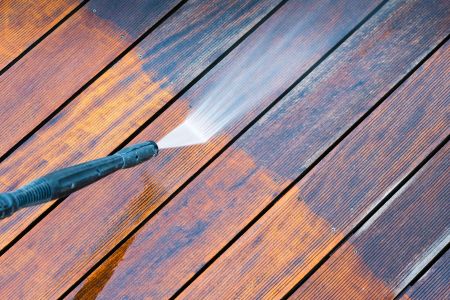 If you're looking for a deck cleaning service in Elizabethtown, look no further than All Out Pressure Washing! Our experienced technicians will deliver thorough and professional deck cleaning that will make your deck feel like it's brand new! Our services are guaranteed and won't cause damage to your deck. In fact, all of our solutions are non-toxic and safe for your family and pets! However, if you have been neglecting your deck for too long, it will be covered in moss and dirt that is difficult to remove. This will destroy the beauty of your house and garden, robbing you of a place to enjoy. Luckily, deck washing is an easy project that takes only a few hours to complete and is one of the best ways to keep it looking beautiful over the long haul. Our pressure washing experts will ensure that your deck is cleaned to the highest quality standards which is why you can't go wrong with our professional solutions! All Out Pressure Washing is a full-service cleaning company that provides more than just pressure washing for your deck. We also specialize in fence washing, sidewalk cleaning, and more. Call now for a free quote on deck cleaning in Elizabethtown!
Wood & Composite Deck Washing
As a professional pressure washing company, we offer wood and composite deck washing with state-of-the-art equipment. Our services include deck washing, patio cleaning, concrete pressure washing, and much more. For homeowners, it is always nice to have a clean deck, patio or driveway to use. The only thing about that is the fact that it takes too much time and effort to do. Pressure washing companies like ours can make it easier for you by doing all the work so you won't have to worry about safety issues as well as the adverse conditions of weather and other outdoor factors such as dust, pollen, leaves, and other debris and contaminants. Our process is simple: first, we will survey your deck and give a detailed description of what needs to be done, and after that, we will provide you with a quote for this service. This is based on the exterior surface size of the deck and the type of material used in construction. Once you have approved our quote, we will schedule an appointment time that works best for you. If you have any questions about our pressure washing in Elizabethtown, don't hesitate to give us a call. We are always available to help you, and we will answer all your questions.

Recent Articles
The Advantages of Commercial Pressure Washing

In business, maintaining a positive image is all that is required to keep things running smoothly. You must excel at grabbing your clients' attention and keeping them coming back time and time again. On the other side, many company owners are so focused on their projects, […]

Do-It-Yourself Pressure Washing: 5 Mistakes to Avoid

Pressure washing a structure, sidewalk, or driveway is the quickest way to improve a home's or business property's look. Regular hosing down will not remove dirt and grime, but pressure washing with the proper methods will. Is pressure washing, on the other hand, a weekend do-it-yourself […]
Contact All Out Pressure Washing
Call Your Elizabethtown Pressure Washing Professionals Today!