Elizabethtown Sidewalk Cleaning For Safer, Cleaner Walkways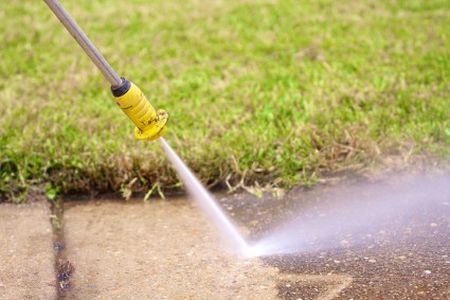 Our pressure washing company provides pressure washing solutions that offer Elizabethtown homeowners quality sidewalk cleaning. With our affordable and professional maintenance plans, there's no better time than now to get your sidewalk in tiptop shape. Sidewalk cleaning can be an arduous chore, but because we specialize in this service our technicians make it a breeze. Our state-of-the-art equipment can even reduce the need for expensive excavations and replacements of sidewalks. Here's the perfect chance for you to get the best value for your money. We're your one-stop shop when it comes to all kinds of pressure washing needs. Our company is unique because we provide a myriad of pressure washing solutions and we're committed to delivering excellent service when it comes to all types of cleaning in Elizabethtown. If you're already tired of looking at those unattractive stains on your sidewalk, let our technicians take care of you. Our friendly staff is standing by to answer any questions you may have about our sidewalk cleaning services in Elizabethtown so call us today for a free estimate. The sooner we get started on your sidewalk, the sooner your property will be back to looking beautiful. We will do our very best to accommodate your needs and look forward to giving your walkways the cleaning tit deserves!
Elizabethtown Sidewalk Cleaning For Safer, Cleaner Walkways
That pleasant walkway to your front door may seem harmless, but unfortunately, it's one of the dirtiest places in your neighborhood. In fact, according to a recent study, 99% of microbes found on a sidewalk are fecal in nature and can be linked back to sources such as leaky sewage pipes or pets relieving themselves on the ground. This is why we proudly offer walkway washing and sidewalk cleaning for residential properties in Elizabethtown. The sidewalk in front of your home is a vital part of the first impression people have when they visit, so you want it to look clean, new and fresh. But with dirt, grime and grease all invading the surface, you'll need to call in professional sidewalk cleaning services like our pressure washing company offers. We can remove all loose debris from your sidewalks to reveal cleaner surfaces. We can also take care of removing any dirty or greasy film that may have been deposited on your sidewalks by cars driving over them throughout the day. If you're looking for Elizabethtown pressure washing for your sidewalk reach out to our team today! We also provide patio washing and much more!

Recent Articles
The Advantages of Commercial Pressure Washing

In business, maintaining a positive image is all that is required to keep things running smoothly. You must excel at grabbing your clients' attention and keeping them coming back time and time again. On the other side, many company owners are so focused on their projects, […]

Do-It-Yourself Pressure Washing: 5 Mistakes to Avoid

Pressure washing a structure, sidewalk, or driveway is the quickest way to improve a home's or business property's look. Regular hosing down will not remove dirt and grime, but pressure washing with the proper methods will. Is pressure washing, on the other hand, a weekend do-it-yourself […]
Contact All Out Pressure Washing
Call Your Elizabethtown Pressure Washing Professionals Today!