Porch & Patio Washing For Your Elizabethtown Exterior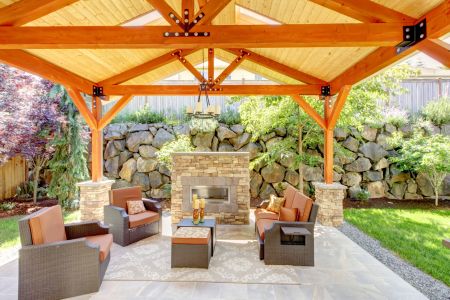 All Out Pressure Washing is Elizabethtown's leading pressure washing and patio washing service provider. We provide patio washing services for homeowners in Elizabethtown to make their life easier, safer, and more enjoyable. Our team specializes in patio washing and we know exactly what it takes to make any home welcoming again. Your patio is a place of relaxation and a place where you unwind after a long day or simply enjoy the fresh air. We offer custom patio washing from top-to-bottom to cleanse away any grimy or soiled particles and our on-the-spot pressure washing services can be used for any pressure cleaning task. Our expert technicians don't stop at patio washing; our services included deck cleaning, and we also pressure wash driveways, and sidewalks to keep your home clean and safe. If you live in Elizabethtown or the surrounding areas, we are ready to provide our patio washing services at a price you can afford.
All Out Pressure Washing has years of experience providing patio washing services for residential properties. We are fully licensed and insured so you know that all work is up to code. We also provide a 100% satisfaction guarantee. We want you to be completely satisfied with our patio washing services, and we will work hard to earn your business. For more information about our patio washing services for homeowners in Elizabethtown contact All Out Pressure Washing.
Porch Cleaning
Ready to have a fresh start for a new season? Cleaning the outside of your home's entrance is the perfect way to do just that. Having a clean outdoor space is not only aesthetically pleasing, but it also adds life to your home and helps you feel more comfortable. Possibly the best thing about hiring a professional cleaning company in Elizabethtown like ours is that it saves you from scrubbing down your own porch. For all these reasons and more, employing our services will make winter and summer easier on you than any other time of the year! We provide professional porch cleaning in Elizabethtown that promises quick results while being affordable, too. If you're looking for no-hassle services that will leave your outdoor space shining and will add a little joy to your life, we're your best bet! If your porch need a good scrubbing? We say that's no sweat. We know how important it is to you and we'll spend the time to ensure that your porch is clean and up to your standards. All Out Pressure Washing offers pressure washing in Elizabethtown that will help you get rid of dirt, grime, and uninvited guests, including mildew and mold. You want to make sure you're getting the most quality service available, so call our experienced team today.

Recent Articles
The Advantages of Commercial Pressure Washing

In business, maintaining a positive image is all that is required to keep things running smoothly. You must excel at grabbing your clients' attention and keeping them coming back time and time again. On the other side, many company owners are so focused on their projects, […]

Do-It-Yourself Pressure Washing: 5 Mistakes to Avoid

Pressure washing a structure, sidewalk, or driveway is the quickest way to improve a home's or business property's look. Regular hosing down will not remove dirt and grime, but pressure washing with the proper methods will. Is pressure washing, on the other hand, a weekend do-it-yourself […]
Contact All Out Pressure Washing
Call Your Elizabethtown Pressure Washing Professionals Today!